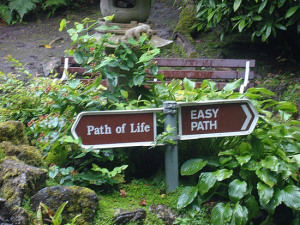 I had a holiday in Cornwall lately, some much needed breathing space during a week under canvas. It was a simple week: reading, cooking on a gas stove or BBQ and walking the rugged cliffs along the north cornwall shore (and ok, I admit some lovely cream teas!)
I love walking, being out in nature. And I always find it exciting to explore new terrain, a new route. As I walked north out of Padstow towards the peninsula the direct parallels between walking a coastal path and our path in life occurred to me. I guess this is a well-worn metaphor…and an equally well worn coastal path! As I left Padstow, I was embarking on a journey I had never done before. Whether it be starting anew in a career, in a relationship, or a project we have an idea about our destination – we have after all selected it for a reason – but really we have no idea what it is really going to be like. And we certainly have NO idea what will occur along the way – how easy will the path be? What terrain will we encounter, the ups, the downs? Will the weather be kind, easy plain sailing or a stormy turbulent time? (as I learnt in Cornwall, even the promise of a bright blue sky can quickly shift in to menacing dark stormy clouds…oh the English weather!). Uncertainty – exciting, overwhelming, daunting all at the same time.
It is perhaps easy to conjure up other parallels. At times my path was on the flat, wide and spacious – it allowed me to lift my gaze, look around me and take in the scenery. At other times the footing became tricky with boulders and slippery slate – I had to look down and pay careful attention to my footing and mindful of each step. I have often encountered periods in my life where I had to slow down, pay careful attention to detail and not look to far ahead. I can find this stressful, and indeed on my walk I noticed how less relaxed I was when the path got rocky.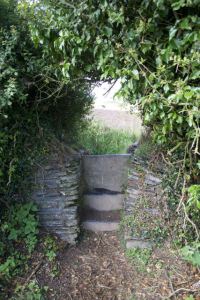 Sometimes life throws us a 'curveball', a really unexpected obstacle that needs careful thought and planning; often it can lookunsurmountable. Bringing to mind my walk, I came across several portions of the path where I rounded a bend to see the unexpected – on one occasion I was presented with this novel (to me) type of stile. Like the local architecture, the stile was constructed from local stone and slate – at first glance I thought "how on earth am I going to get over that" (as we age these obstacles can become more daunting…and I am not as nimble as I was 10 years ago!!). However, I made it over (carefully). And the next time I came across a similar stile, I gained confidence in my technique. Similarly, each time we successfully deal with an obstacle in life we can learn from it. In my counselling and coaching work I am often impressed by the resilience and imagination of my clients; I was equally impressed with how resourceful some of the other walkers were in traversing these stiles – people 30 years my senior taking them in their stride. A reminder that appearances can be deceptive.
The Cornwall Coastal path is far from flat. I had planned my arrival time in Harlyn Bay based on my normal average walking pace. But the ups and downs, the slippery terrain (and my need to stop and take photos) slowed me considerably. I noticed the stress I felt when I compared where I wanted to be with my actual progress. I noticed how I put pressure on myself to speed up, to catch up. Whose expectations? My own, no doubt. It had to be a conscious effort to slow down, to remind myself I was holiday – there was no 'being late' to worry about. We can be our own worst enemy when it comes to expectations, to conform to social norms or the demands of a 'part of self' that is struggling to accomplish, to be recognised.
Coastal paths are just that…and in North Cornwall, the run-off from the path can be steep. Again, attention is needed with footing – you don't want to fall off the path – as rocks and sea await! Sometimes in life we flirt with the edges; in fact sometimes we feel we have actually fallen off our path. We can feel lost, literally 'at sea'.
Whilst I encountered many people on my walk that morning, there were periods when I didn't come across anyone for 20 minutes at a time. I am someone very comfortable with solitude – I can be alone but not feel lonely. Yet there was something about wanting to share the experience with 'other' that I noticed as I walked. I was collecting thoughts along the way ready to recount them to my partner when we met for our picnic lunch; I was taking photos as another way to share. I also noticed that when I did come across another group of walkers I was very happy to share a chat. In life we need to balance times of space and solitude with connectedness to other. It is my belief that we need this for personal growth. I also believe that the role of the therapist is to walk alongside their client while they explore their own path. I may not be with the client in their daily life, but our weekly session is a way of helping them feel their life is held, that their load can be shared and lightened.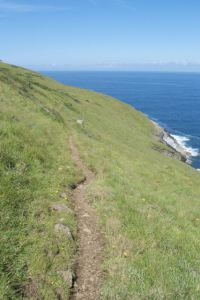 At some point, the parallels between walking a coastal path and the path of life falls short. What came to me as I walked and was reflecting on all the above*, is that ultimately, our path in life is one we make – unlike the Padstow to Harlyn Bay path, there is no pre-ordained route. With each step we form the direction, with each step there are choices in which way to go. We may feel we walked the wrong way: but unlike a constructed pathway, we don't go backwards and take the right path, we need to self-correct and create our own detour – with an attitude of 'I did the wrong thing there', the time can feel wasted; with a more open learning perspective, we can appreciate that the detour (the long way round) was useful: that it reinforces the desire of where we want to be.
(*you have been spared a lot of my musings given the walk was 3 hours long – that would have been a long blog post!)