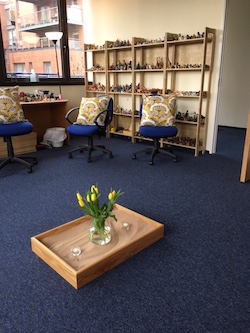 Last weekend I attended a workshop on sandplay therapy run by the Association of Integrative Sandplay Therapists. Sandplay, which can be used in therapy with children and adults alike, is a process self discovery using a sand tray, small objects and play figures. Originally created by psychiatrist Margaret Lowenfield and later developed by Carl Jung and jungian analyst Dora Kalff, the sandplay method is said to "release blocked psychological energies transforming restrictive narrow world views and opening up creative capacities." In my case, this certainly seems to be true! It felt like a perfect weekend to aid my transition back to 'normal' life post-retreat; a chance to re-connect back inwardly and re-remember many of the experiences on my retreat.
The weekend was mainly experiential: we created four different trays, a mix of 'directed' (we were given a question to work with) and 'non-directed' trays (no instruction given). Through this, group processing and discussion of the symbols emerging in the trays, our facilitator helped us understand the map of the psyche that sandplay work can bring forward and how this can be integrated in to our normal mode of 'talking therapy'. I have used sandplay work a little before – indeed I have a sandtray and sets of figures in my therapy room – and this weekend was intended to get me using this creative mode of therapy more. As a Gestalt psychotherapist I am familiar with working creatively: sandplay work has much in common with the Gestalt 'experiment'. This weekend also took my interest in Carl Jung's approach deeper, and it was again reassuring to see the overlap in his ideas with those found at the very heart of Gestalt.
As a little side note, I am enjoying the writing of this blog and the sharing of my personal process. I've had many discussions with colleagues in the counselling and psychotherapy field about the level of self-disclosure we make (in the therapy room, in the realms of the virtual world and online world). I feel comfortable with sharing, and I am also feeling the personal benefits of doing so: there is the writing process itself, but I think there is also something about releasing this material 'in to the universe' as it were. So, it is in that spirit that I wish to talk about my sandplay weekend from the personal experiencing: firstly, share with you the four trays I completed, and secondly convey some of the theory in sandplay therapy using what emerged in my trays.
Sandtray 1: Non-directed tray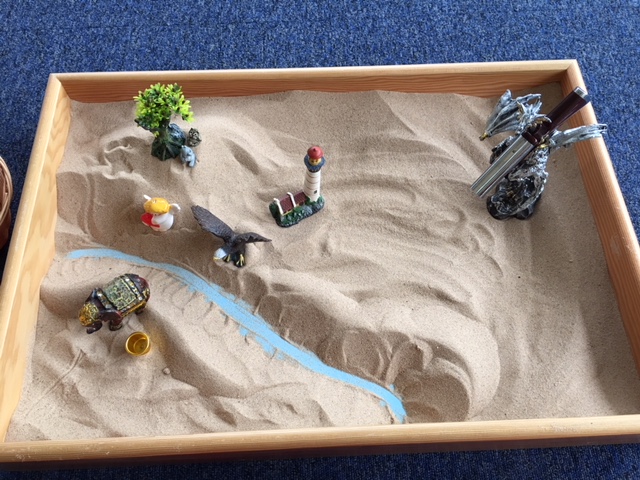 After brief introductions (we were a small group, seven in total) and asked to sit near a tray, we were invited to simply create a tray. I immediately noticed that question "what are we meant to do?" as I looked down to the 57 x 72 x 7 cm box filled with play sand (trays are standard size, apparently the largest area one can see without moving one's head. The box is painted blue on the bottom and sides so as to represent water or sky). I rose from the floor cushion and started to look at the collection of figures that Jill (our facilitator) had collected over a period of 10 or so years: hundreds of small objects, toy animals, action heroes, cartoon characters, marbles, crystals, toy vehicles – in fact anything we might encounter in everyday life, in miniature). You'll see what caught my eye in the photo here. As I chose, I was mindful to let the figures pick themselves; to avoid working from the mind and selecting based on a story I tell myself. An example of this: see the small gold thimble bottom left of the tray? I saw this at the very back of the table, slightly out of reach. I then noticed an identical one just in front of me. It would have been easier to pick that one up, but somehow it felt important to select the one that had caught my eye, right at the back and requiring me to walk all around the tables to go get it. It was allowing a deep connection with the process rather than a "going through the motions, getting the finished product done" mentality. As Jill explained, the therapy begins the moment the client engages with the task.
I sat for a while in front of the 'blank canvas'. I noticed I didn't want to start, so I just sat, going with it. I then placed the tree top left on a slight mound I had created. The small cat and a figure of "Thumper" the rabbit sat underneath the tree. I don't know why I picked up the lighthouse, but I placed it at the bottom of the hill – it felt like something that was needed to keep a look out. I noticed how that felt enough, I didn't want more than that. I wanted to stay here, curl up under the tree. I felt safe. But then I felt I wanted more – wanted more? Or should do more? It felt like a question in my life; it felt related to my retreat experience, something around wanting to be out there in the world, connecting. I picked up the elephant and pondered why I had selected her. It was shiny and quite exotic, and held a promise. Given the elephant was jewel encrusted and as a Buddhist I have taken refuge in the "3 jewels" of Buddha, Dharma and Sangha it felt related to my yearning and the momentum for the spiritual path. This was what "I" wanted, and "I" was a little angel (I told Jill afterwards "I don't want to be seen as the blonde-haired, blue eyed girl"…but here I was!). I placed her facing away from the tree, edging down the hill toward a….I created a river, she stood on the shore looking over to "the other shore". Next to her, what I thought was a vulture, something "dark" ready to eat me if I fell; Surely if I went for what I wanted in life; if I strive to "live a big life" the dragons would get me; after all they wait, like the vulture, and they also have a large gun ready to shot me down. Or maybe, as the group helped me ponder, all these figures were actually aspects of me. Was the vulture actually an eagle ready to help me get to the other shore with more powerful wings than my little angel ones? And the dragon might not be what I thought. As Jill explained in Eastern culture this traditionally symbolizes potent and auspicious powers, particularly control over water. The dragon is also a symbol of power, strength, and good luck for people who are worthy of it.
After each tray, Jill asked us to consider our connection to what we created. An invitation to drop "thinking" and instead focus on the other 3 of Jung's judging (feeling) and perception (sensing and intuition) functions. I noticed the 'gut' reaction to the tray was "this feels accurate", and then came sadness. Looking back, I think this tray was an ideal way to start the weekend for me. An introduction to the gentle power of the process; and also a reminder of the retreat experience I had recently. The sadness brought an aliveness which I felt lacking in the emptiness and depressive quality post retreat.
Sandtray 2: Connecting to inner qualities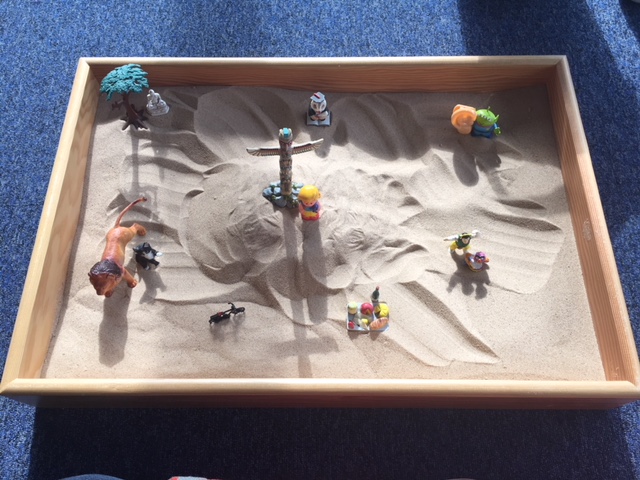 After lunch and a brief period of meditation, Jill invited us to connect to our best self, the inner qualities that we treasure. With this 'directed' tray, I roamed the tables of objects with an idea of what I wanted to convey. I noticed how different this felt to tray task 1: I had keywords, and then looked for symbols of those. The whole idea of symbols is an interesting one. As a Gestalt therapist, I let the client lead on interpretation. Whether it be gestures, body posture, tone or language I ask them to tell me what each means to them. So in this case, selecting another tree for tray 2 was my expression of 'compassion; the lion / cat coupling as my courage and gentleness; the owl as my desire to learn; the alien as my all welcoming support for others (he has a large ear appended, my ability to listen); bottom right is a chimpanzee dancing and Animal drumming – symbolising my playfulness; a tray of cheese and wine to denote relaxation and chill time; and then a bike to represent my endurance. At first, I didn't know what the totem pole wanted of me, but it kept grabbing my attention as I roamed the table of figures. When I got back to the tray, it found itself centre (Jill explained that the centre piece tended to be the 'where we are now'). When I placed 'Little Helen' next to the pole, I realised this was a coupling of strength and vulnerability. Historically, I have tried to 'be strong' and in fact invented a whole persona around it. More recently, since starting on my career path as a counsellor and aided by my spiritual path, vulnerability has revealed itself as my strength. I could not be the therapist, partner, daughter, friend today without realising this.
Again, this tray felt 'right'; and I also felt a great deal of warmth. Jill asked me about the 'blonde, blue eyed' figure I had yet again used to depict me. She carries a teddy bear, and I explained to Jill and the group that I have a photo of me (aged about 4) where I hold 'Big Ted'. I have a lot of compassion and fondness for that Little Helen, yet also a feeling that she needs protecting, telling "you're okay kid". Jill invited me to pick her up from the tray and dialogue with her. It turned out to be an incredibly healing act. Again, the incorporation of this process in to my Gestalt practice feels incredibly straight-forward and complimentary.
That evening, I felt incredibly relaxed and whole. I felt back in touch with the contentment I felt on retreat. We had rounded up the day with a 'check-in' as to how we were doing, and I offered how connected I felt to the group which given we had only know one another for 6 hours was quite astounding. It occurred to me that here we were 'baring our souls', literally baring our psyches. I had revealed my deepest aspects, the shadow sides, my hopes and my fears. For someone who has longed to be seen, I was being seen in spades!
I'll share Day 2 (and trays 3 and 4) in my blog next week. In the meantime, I'd love to hear your thoughts and your experiences if you've used sandtray.